Last orders for Christmas delivery – 23 November
For children and adults; personalise for bathroom or beach, pool or gym. Perfect for engagement and wedding gifts.
Towels & Flannels
Luxurious cotton towels and flannels in White, Duck Egg Blue, Ink Blue, Cherry Red, Silver Grey and Hot Pink, all in 650gsm.
A slightly lighter weight towel in a glorious Mediterranean Blue or Soft Pink also available.
Choose from a wide variety of fabrics for letters and motifs.
Bath Sheet
length: 150 cm
width: 100 cm
Name only: £33
Bath Towel
length: 135 cm
width: 70 cm
Name only: £28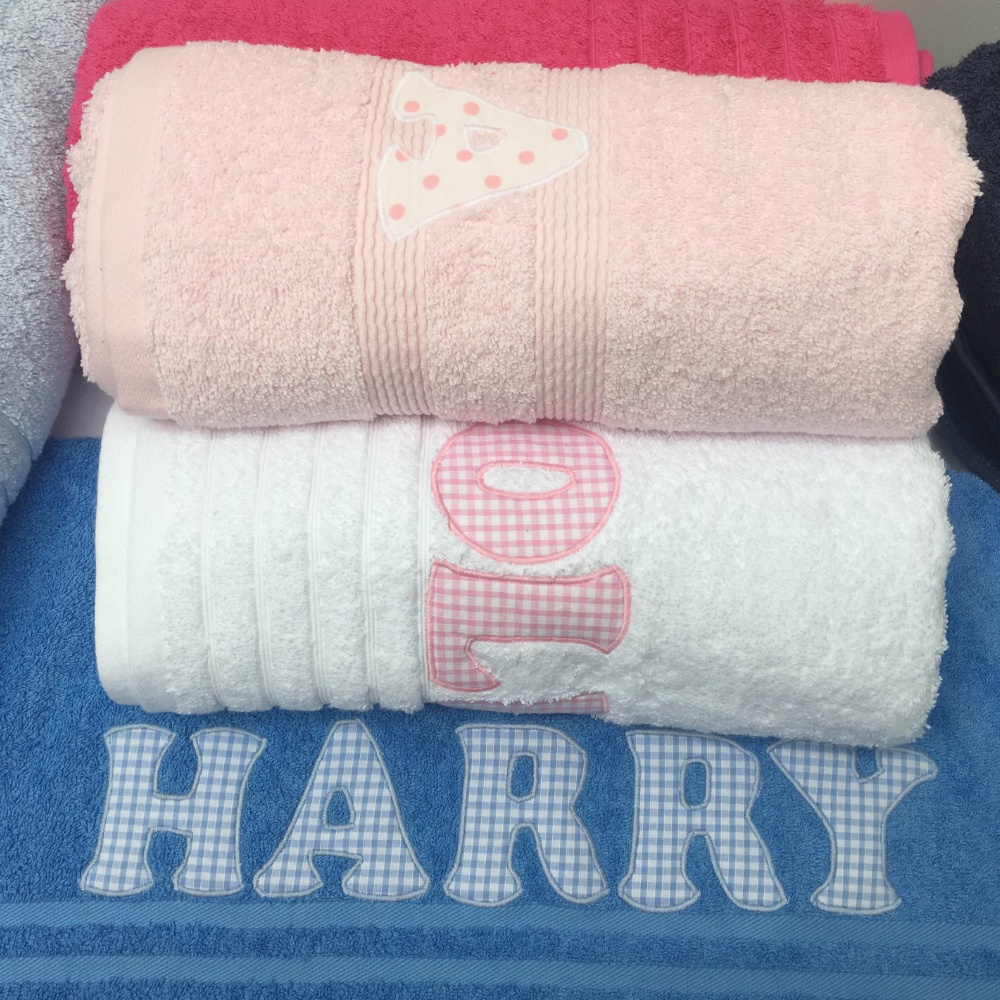 Bath towels in Hot Pink, Soft Pink, White, Mediterranean Blue.
Hooded baby towels
Soft and snuggly hooded white towel to wrap up the little one after a bath. Comes with white, blue gingham or pink gingham trim, with a sweet motif. 
length: 150 cm
width: 100 cm
1 Motif: £16.95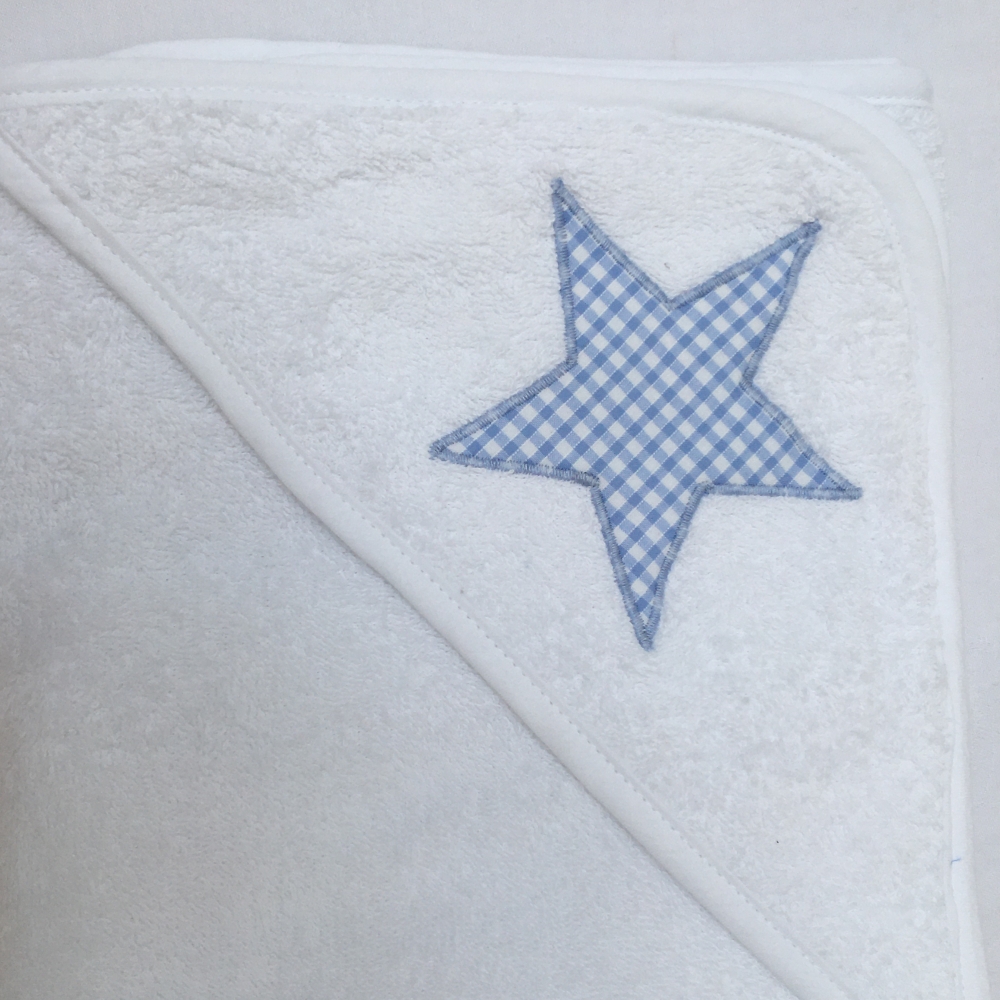 Hooded baby towel with white trim and blue gingham star motif.
Flannel
Choose a fun fabric for a single letter or one of the many motifs available.
length: 30 cm
width: 30 cm
1 letter: £6.50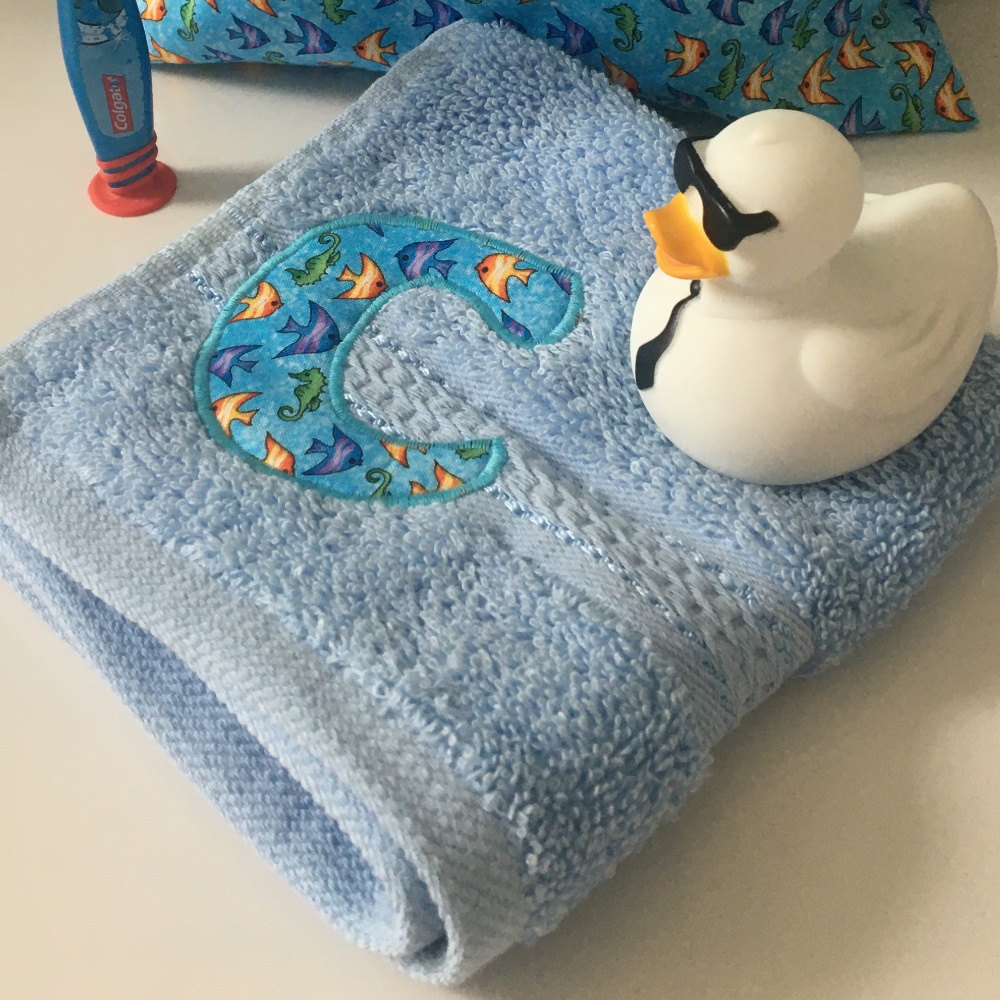 Duck Egg Blue flannel with ocean-themed appliquéd letter.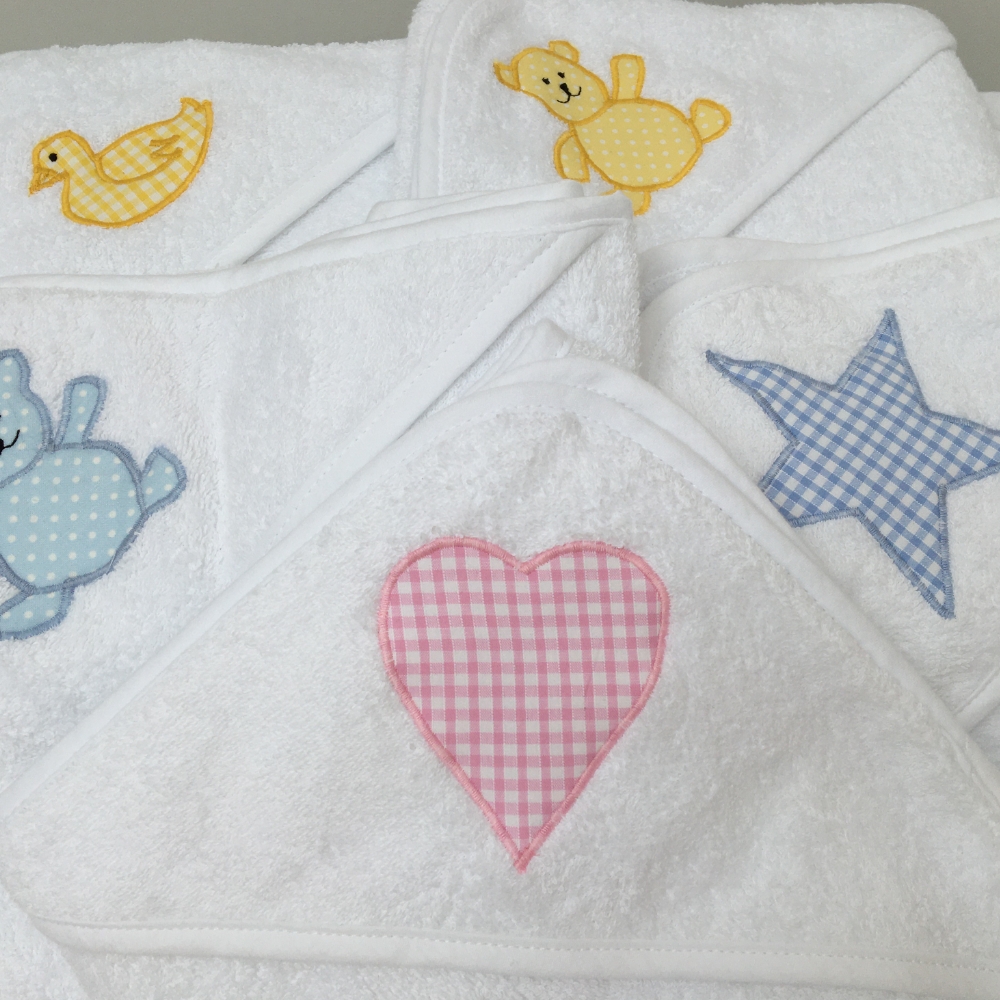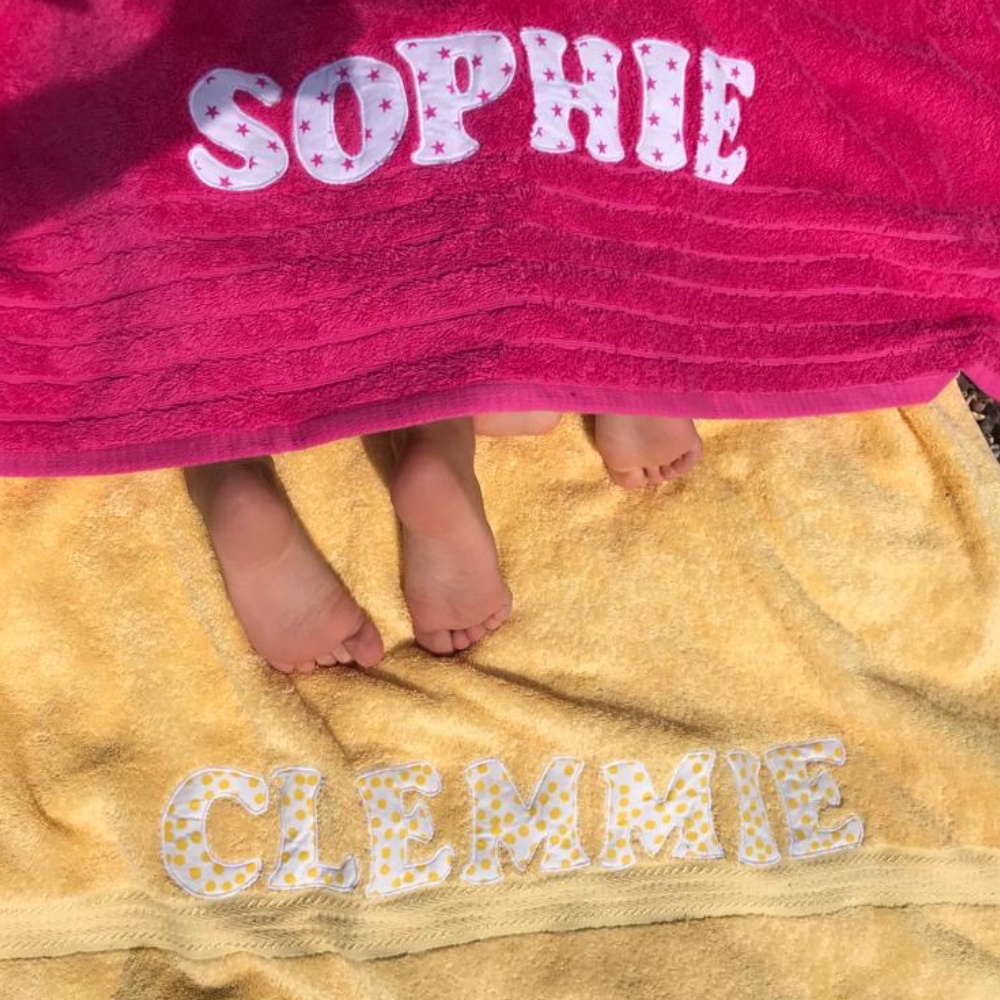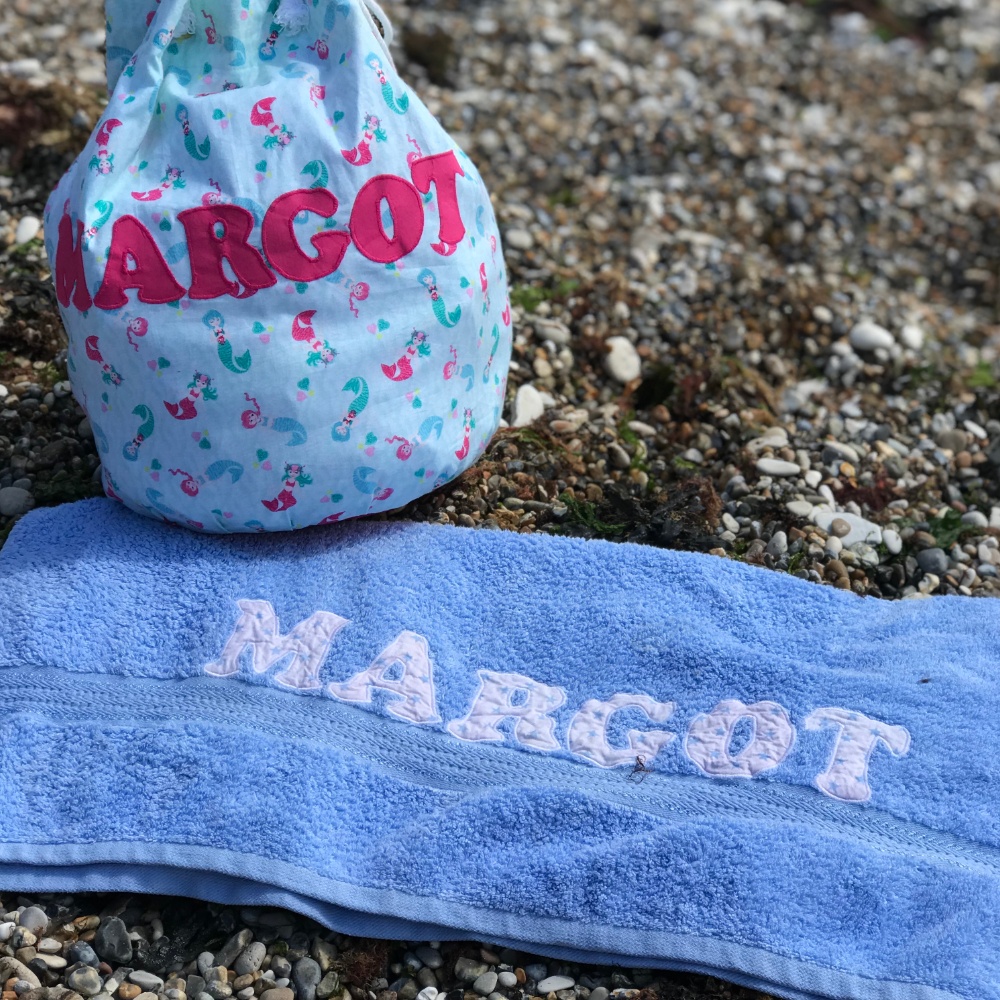 How to make an order
Please call or email me to discuss the choice of fabrics, styles and products.
If emailing, please include your telephone number so I can call you back. 

I just wanted to say how impressed I am with the lovely quality. The swim bag is even nicer than I remembered and the towel is lovely and thick.

My rabble of children have all been lucky enough to have been given personalised towels by you – so we have enjoyed your work for over 16 years.

We were given two of your lovely towels as a wedding present and would like to order some more.